Arran 15yo / 1997 / Sherry Cask #938
Het!
http://tastenote.se/media/reviews/photos/thumbnail/320x520c/e6/7c/cd/Arran-1997-Sherry-Cask-938-40-1411987624.jpg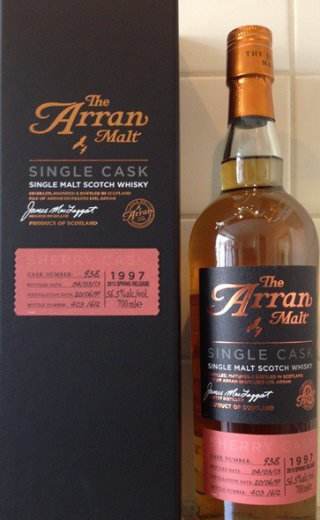 Whisky
Whiskytyp
Cask Strength
Single cask
Single Malt
Fatbeskrivning
Sherry Butt
Vad besökare tyckte
(Updated: oktober 03, 2014)
Whisky
Tastenote titel
Denna provade jag H2H mot Arran Singel Cask (Sherry) #1968


ENGLISH – INTRODUCTION:
This was H2H tested with the Arran Singel Cask (Sherry) #1968

Doft
Inledningsvis fruktig men jämfört med #1968 har vi här en mer tydlig vaniljsötma. Det är vaniljsås med bakomliggande söt sherry frukt.
Här finns även tydlig honung och sedan sveper päron och mango in och lägger sig fint i frukt korgen.
Jämfört med #1968 känns denna mer "bourbon" betonad……refill?
Sedan en gammal klassiker….mandel….tada..kubb. Men vi har inte bara sötma även om detta är huvud temat.
En bakomliggande jordig ton av läder tittar fram i frukt sötman.
En intressant doft med stora skillnader jämfört med mer klassiska sherry kollegan #1968

ENGLISH – NOSE:
Starts off fruity but compared to the #1968 there's a bigger impact of vanilla. Vanilla sauce and behind some sweet sherry fruit.
Goes on sweet with honey and then more fruit of pears and mango.
I find this, compared to the #1968, more "bourbon" like in its approach with a sherry finish…refill?
Then an old classic….almond bun. But it´s just not only sweet and fruit, there's also a light earthy whiff of leather behind the sweet fruit.
Interesting nose but rather different from the #1968



Smak
Först rund, söt medelfyllig munkänsla, men övergår snabbt i mer ek kryddig smak.
Mer sherry i smak än i doft, lätt vanilj och mandel tillsammans med torra toner av kaffe

ENGLISH – TASTE:
Sweet and creamy with a medium body, but gets more spicier of the wood.
More sherry here than on the nose, light vanilla and almond together with some dryness of coffee.

Avslut
Medellång till lång eftersmak med vanilj, kola och mandel. Även här lätt torr av mocka.
Mot slutet en lätt lakrits ton som mynnar ut i kolat trä med svag sälta.

ENGLISH – FINISH:
Medium to long finish with vanilla, toffee and almond. Gets a bit dry of mocca.
In the end, A whiff of liquorice, wood smoke and light saltiness.

Beskrivning / Sammanfattning
En bar utgåva och ganska olik i sin presentation jämfört med #1968 som var mer "klassisk" sherry jämfört med denna.
Denna känns klart mer som en finish på sherry men inte dålig för det, men för egen del föredrar jag #1968 framför denna.
Men gillar du lite lättare sherry influenser med tydligt sötma och fruktighet, ja då kan detta passa bra.

ENGLISH - CONCLUSION:
A good expression and very different from the cask #1968 which was more of the "classic" sherry style.
This one felt more like a finish on sherry but that doesn't mean bad, i just prefer the #1968 over this one.
But if you like the sherry influence to be more light, well, this might suite you well.
Var denna recensionen till någon hjälp?