Arran 15yo / 1996 / Sherry Cask #1968
Het!
http://tastenote.se/media/reviews/photos/thumbnail/320x520c/c6/2d/11/Arran-single-cask-1968-1996-2012-250-33-1411986903.jpg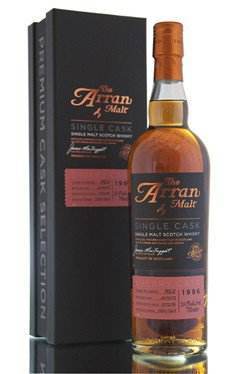 Whisky
Whiskytyp
Cask Strength
Single cask
Single Malt
Fatbeskrivning
Sherry Cask
Vad besökare tyckte
Whisky
Tastenote titel
Arran är ett destillat som definitivt bör uppmärksammas mera. Tillhör regionen Islands (bland de mer uppmärksammade destillerierna Highland Park och Talisker) men närmare bestämt på Isle of Arran
Kan inte påstå att jag själv heller florerar speciellt mycket i Arran med enbart några fåtal sorter i bagaget, men vi tar upp resan med denna Single Cask ( Sherry) utgåva och det bådar gott.

ENGLISH – INTRODUCTION:
Arran is definitely a distillery that should receive more attention than it does. It´s categorized to the Islands (together with the more famous distilleries Highland Park and Talisker), but more particularly on Isle of Arran.
Can´t say that I have tried that much from this distillery, just a few expressions, but I've figured it´s about to do something about it, and with this Single Cask (Sherry) it´s looking good I can say.



Doft
Tydlig söt sherry sötma med rom russin, punsch pralin och vanilj.....bulle. Får sedermera sällskap av en torrare jordig ton av läder som lägger sig i framkant för att återgå in i sötman av jordgubbar i syltig karaktär och Pim Pim hallonbåtar.
Precis när man trodde att det skulle sluta i ett sött kalas, bryts detta upp av en kryddigare ton av ingefära, kanel och en lätt doft av örtig salvia.
Komplex, intressant och sammansatt doft utan att något kändes överrepresenterat.

ENGLISH - NOSE:
Typical sherry sweetness with raisin, punch praline and vanilla ..... bun. Gets more drier and earthy of leather up front, but gets back into the sweetness of strawberry…..jam and raspberry.
Just when you thought it would end up in a sweet sherry party, it gets more spicy of ginger, cinnamon and a light scent of the herb sage.
Complex, interesting nose indeed.


Smak
Fyllig och rund munkänsla som i doft börjar söt av sherryfrukt, jordgubbe och russin. Sedan sveper en lätt kryddighet in och blandar upp tillsammans med torra toner av kakao, mörk choklad, apelsin och lätt sälta.
Här blir smaken mer sträv av kaffe än söt kryddig sherry kompott.

ENGLISH – MOUTH
Full-bodied and sweet of sherry, strawberry and raisins. Some spiciness together with dry notes of cocoa, dark chocolate, orange and some light saltiness.
Gets a bit more harsh of coffee than sweet spicy sherry.

Avslut
Värmande medellång eftersmak där kryddigheten är mer framträdande än tidigare. Sherrysötman håller det ändå på plats tillsammans med jordgubbar och lätt apelsin.
Mynnar ut i en nätt sträv ton av mörk choklad med salta inslag tillsammans med kanel och nejlika.

ENGLISH – FINISH
Warm medium long finish where spiciness is stepping up even more, but the sherry is keeping it in place along with strawberries and light touch of orange.
Finish up with a dry of dark chocolate with light saltiness, cinnamon and cloves.


Beskrivning / Sammanfattning
Om du gillar en mer kryddigare sherry whisky än bara tung söt sherry, kan definitivt detta vara något. Tror vi få florera runt mer i deras Single Cask utgåvor. Denna parallell provade jag med en annan Arran Single Cask (Sherry) utgåva, fat nr:938. Dessa visade ganska stora skillnader men båda med stor kvalite´. Denna lägger jag upp inom kort.

ENGLISH - CONCLUSION:
If you like your sherry whisky a bit more spicy rather than just meaty sherry, i´d say you should check this one out. I was trying this one out with another Single Cask Sherry expression from Arran, the cask #938 and both of these showing high quality but they were very different from each other. I will upload that one shortly.
Var denna recensionen till någon hjälp?