Laphroaig 11 / 2002 / Hepburn´s Choice
Het!
http://tastenote.se/media/reviews/photos/thumbnail/320x520c/03/4e/25/Laphroaig-11-2002-Hepburns-Choice-57-1410344782.jpg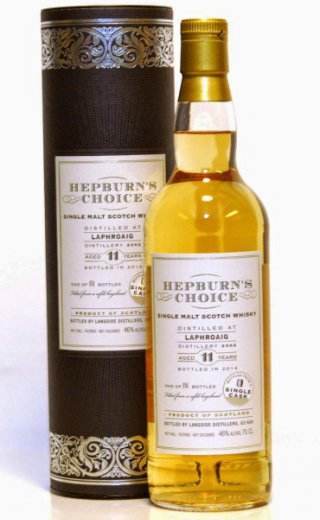 Whisky
Oberoende buteljerare
Langside Distillers
Fatbeskrivning
Refill Hogshead
Övrigt om flaskan
Pris SB: 998 SEK, 1/10-2014
Vad besökare tyckte
(Updated: september 12, 2014)
Whisky
Tastenote titel
Laphroaig 11 yo Hepburn´s Choice släpps på systembolaget den 1 Oktober.

Hunter Laing & Co är även hemvisten för Langside Distillers som är den officiella buteljeraren. Man har under 2014 skapat ett varumärke med namnet Hepburn's Choice. Namnet Hepburn är ett gammalt släkt namn. William Hepburn var diplomat som rest mycket och var en konnässör av Scotch Whisky.
Under detta märke buteljerar man whisky som är lite yngre än de som buteljeras i Old Malt Cask. Oftast från single fat och vanligtvis vid 46%. Alltid utan färgjustering och aldrig kylfiltrerade. (Text hämtad från Clydesdale)

ENGLISH - INTRODUCTION:
Hunter Laing & Co is also the home of Langside Distillers which is the official bottler. During 2014 they have created a brand named Hepburn's Choice. The name Hepburn is taken from an old family name. William Hepburn was a diplomat who traveled a lot and was a connoisseur of Scotch Whisky.
This series of whiskies are meant to be a bit younger than those bottled in Old Malt Cask.
Most often from single casks and usually at 46%. Always without color adjustment and non-chilled filtered.

Doft
Initialt kraftig medicinal rökighet som backas upp med stor portion frisk citrus samt gröna bananer och äpple juice (gröna).
Bakom lurar en lätt örtighet (grönt te kanske rimmar bra) tillsammans med nötiga inslag av bittermandel som ökar något med tiden.
Efter tid i glaset övergår den fenoliska rökigheten något mer åt det jordiska runda hållet och då adderas även
en mer snyggare sötma som "polerar" de initialt något vassa kanterna. Den blir mer fylligare och med mer aska i basen.
Med sötman adderas även en maltigare ton.

ENGLISH - NOSE:
Starts off with medicinal peat smoke and fresh citrus, green bananas and apple juice (green apples in a more concentrate form).
Behind all this there´s a light herbal tone (green tea majbe rhymes well) together with nutty hints of bitter almonds which increases slightly over time.
Giving it some more time in the glass, ant the medicinal peat smoke is becoming more earthy and along with this some more attractive sweetness that "polishes" the initially somewhat sharp edges.
It becomes more "richer", and with more sweet ash in the base.


Smak
Medelfyllig och till en början rund munkänsla. Röken fortsätter även här att lira i framkanten med sin fenoliska karaktär.
Här adderas även en större portion sälta tillsammans med den friska citrusen vi fick i doften.
Som tur är infinner sig även lite sötma från vaniljen men den får även besök av grape toner som gör den lätt sträv.

ENGLISH - PALATE:
Medium-bodied and round mouth feel. The peat smoke continues to be up front with its phenolic character.
A larger portion saltiness along with the fresh citrus we got on the nose.
A hint of sweet vanilla that turns to light bitterness of grapefruit.


Avslut
Medellångt avslut med sälta och rök. Röken fortsätter att vara jordig tillsammans med den friska citronen.
En lätt sträv ton sveper in men mynnar ut i söt aska.
Saknar dock fyllighet i "mellanregistret" för att backa upp doftförväntningarna.

Beskrivning / Sammanfattning
En rökig whisky med bra bett som garanterat tilltalar de som gillar den salta och fenoliska karaktären mer än jag.
Något högt pris kan jag tycka om man med denna serie har tänkt sig en "billigare" serie som ligger under Old Malt Cask serien…men allt är ju relativt ;)
Det släpps 151st flaskor totalt och hur många som Clydesdale har fått in vet jag inte men jag tror nog att man inte bör vänta för länge innan dessa tar slut.
Pris: 998 SEK och släpps på Systembolaget den 1/10-2014 med beställnings nr: 85910

ENGLISH - CONCLUSION:
A smoky whisky with a good "bite" that´ guaranteed to appeal to those who like the salty and phenolic character more than I do.
Somewhat a high price I might think if this is to be "cheaper" below the Old Malt Cask series (but everything's relative) but hey…there's at least an age indication ;)
Only 151 bottles was released and I'm pretty sure that they will be sold out very fast. Price around 90Euros


Var denna recensionen till någon hjälp?